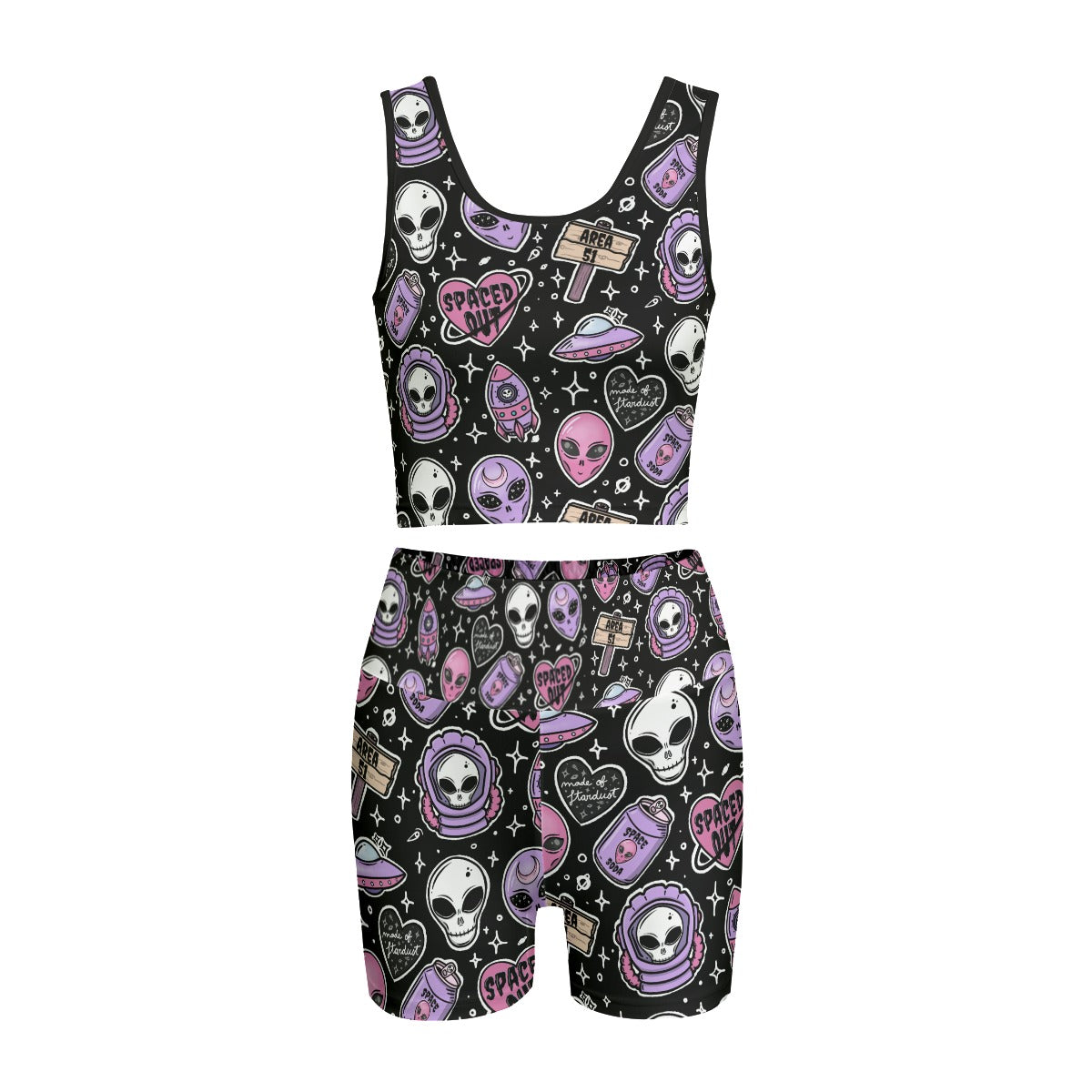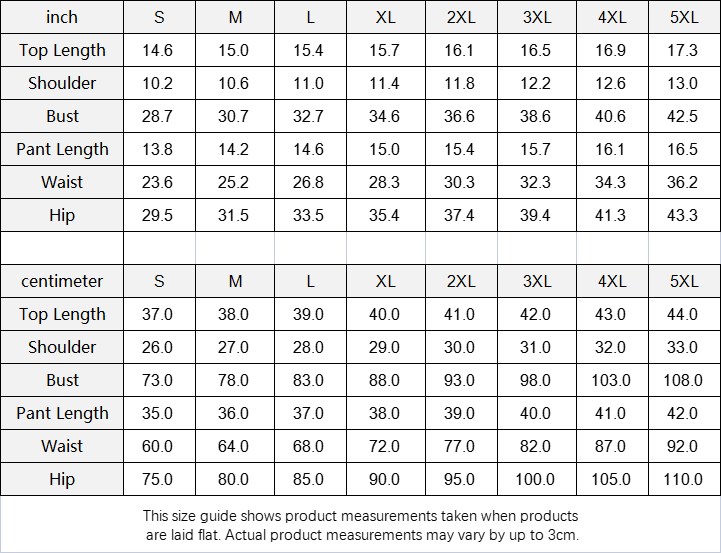 Share
Alien Yoga Set

Fabric: 88% polyester and 12% spandex
Regular fit
Stretch fabric,
high waist
Fabric Weight: 230 g/m²

Size Guide
| | | | | | | | | |
| --- | --- | --- | --- | --- | --- | --- | --- | --- |
| inch | S | M | L | XL | 2XL | 3XL | 4XL | 5XL |
| Top Length | 14.6  | 15.0  | 15.4  | 15.7  | 16.1  | 16.5  | 16.9  | 17.3  |
| Shoulder | 10.2  | 10.6  | 11.0  | 11.4  | 11.8  | 12.2  | 12.6  | 13.0  |
| Bust | 28.7  | 30.7  | 32.7  | 34.6  | 36.6  | 38.6  | 40.6  | 42.5  |
| Pant Length | 13.8  | 14.2  | 14.6  | 15.0  | 15.4  | 15.7  | 16.1  | 16.5  |
| Waist | 23.6  | 25.2  | 26.8  | 28.3  | 30.3  | 32.3  | 34.3  | 36.2  |
| Hip | 29.5  | 31.5  | 33.5  | 35.4  | 37.4  | 39.4  | 41.3  | 43.3  |
| | | | | | | | | |
| --- | --- | --- | --- | --- | --- | --- | --- | --- |
| centimeter | S | M | L | XL | 2XL | 3XL | 4XL | 5XL |
| Top Length | 37.0  | 38.0  | 39.0  | 40.0  | 41.0  | 42.0  | 43.0  | 44.0  |
| Shoulder | 26.0  | 27.0  | 28.0  | 29.0  | 30.0  | 31.0  | 32.0  | 33.0  |
| Bust | 73.0  | 78.0  | 83.0  | 88.0  | 93.0  | 98.0  | 103.0  | 108.0  |
| Pant Length | 35.0  | 36.0  | 37.0  | 38.0  | 39.0  | 40.0  | 41.0  | 42.0  |
| Waist | 60.0  | 64.0  | 68.0  | 72.0  | 77.0  | 82.0  | 87.0  | 92.0  |
| Hip | 75.0  | 80.0  | 85.0  | 90.0  | 95.0  | 100.0  | 105.0  | 110.0  |
This size guide shows product measurements taken when products are laid flat. Actual product measurements may vary by up to 3cm.
WHAT IS PRINT-ON-DEMAND?
Print on demand is a production model where products with custom printed designs are produced as customers order them. So, instead of holding inventory, the print on demand model prints the item when a customer orders it.
REDUCES WASTE AND USE OF RESOURCES
ON-DEMAND PRODUCTION REDUCES WASTE AND USE OF RESOURCES All products are digital printed on demand when you buy them and avoid excess production ending up in landfill.